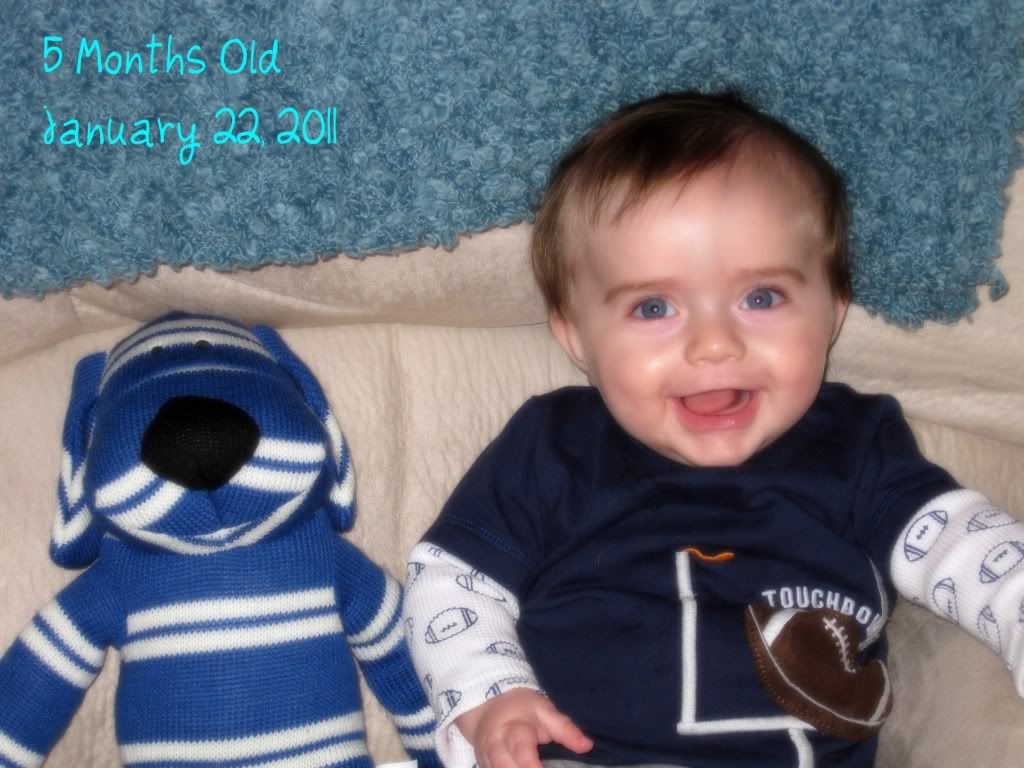 Hi everyone!
Today, I'm 5 months old!
Mommy says I'm such a big boy, but I sure feel little compared to all you grownups.
I'm doing all sorts of fun things these days.
I love to jabber away saying, "ba ba ba ba" or "ga ga ga ga." I use my big boy voice for those. I bring out my baby voice for mommy because she loves to hear me coo. Can you believe Mommy understands what I'm saying? I can't help but let out big smiles when she says, "goooooo!" She's smarter than I thought she was.
Playtime is my favorite. I'm finally tall enough to bounce around in my exersaucer. That thing is a blast! And if I'm not playing in my exersaucer, I'm playing with mommy or daddy. They're so much fun!
My second favorite thing? Eating! I'm still getting milk from mommy, but now I get to eat this neat stuff called food! mmmmmmm So far, I've had carrots, sweet potatoes, apples, bananas (yuck!), and peaches (double yuck!). I'll have to give bananas and peaches another try, but boy did they taste funny the first time around. I eat solids twice a day, and mommy thinks I could probably eat them three times a day. I'm a growing boy....what can I say?
Mommy thinks I'm weighing about 17.5 pounds and measuring close to 27 inches. I have noticed that I'm taller because my feet touch the bottom of my exersaucer now! I use them to bounce and bounce and bounce. Speaking of feet....aren't they amazing? I love to stare at and play with mine! And just when I think they're gone, they show up again!
I like to suck my thumb sometimes, but I still like my paci best. Mommy says these things called teeth may be coming soon. Not quite sure what that means, but I guess I'll know once they show up.
I love my mommy and daddy, and my grandparents, and my aunts and uncle(s). (That (s) is for my honorary Uncle DJ. I can't leave him out!)
This growing up thing isn't so hard. I enjoy learning new things every day! And spending all my time with mommy and daddy makes every day the funnest day ever! (Oh...mommy says funnest isn't a word. My bad. She says she'll teach me grammar later...whatever that is.)
Bye, bye everybody!